Come out with your research!
I would like to communicate more about my research, but where do I begin?
This is one of the questions we get asked most often by researchers and it may also be on your mind. That is why we drew up a list of places where you can take the stage as a researcher. Go for it!
But first things first: do you feel that an event or activity is missing from this post? Let us know at info@thefloorisyours.be. We will make sure to add it to the list.
Accessible
Science Figured Out
Explain your research in a two minute-video. You will receive pitch training (also by us). A professional team will film your pitch, animate it, and before you know it you will have an impressive video. You can participate through your institution or individually through of the Scicomm Academy. More info.
SciComm Academy
SciMingo's ultimate science communication academy for researchers who want to learn how to share their research with the general public. They currently offer four training tracks: popularizing writing (by Eos), pitch training with a video recording of your pitch (by us), infographics (by Baryon), and podcast making. More info.
Let's Talk Science
This annual summer school is organized by the Flemish universities. Spread over three days in early July, researchers from the participating universities can follow free workshops and plenary sessions on science communication. Sometimes researchers also give presentations about their experiences in science communication. More info.
Pint of Science
Science at the pub. Casual vibe included! If you take the stage here, you will become part of a worldwide science event. Held at various locations in Belgium. Usually in the second half of May. Want to speak here? Contact the organization in your area and see what's possible. More info.
Soapbox Science
A town square or a busy street, and a platform to stand on. Sometimes that's all it takes. That's the idea behind Soapbox Science, where scientists share their research and ideas from a place in the public space. Originally from London, Brussels has hosted two editions so far. Soapbox Science Brussels focuses specifically on female researchers. Usually held in June. Sign up as a speaker around January/February. More info.
Social media
You can of course also share your story via social media such as Twitter, Facebook, Instagram, LinkedIn or even TikTok. Or maybe a takeover is something for you. For example FWO on Instagram (more info) or @realscientists on Twitter.
Short and sweet
It can't hurt to try
TEDx
TEDx events are hosted in Antwerp, Ghent, and Hasselt. Sound too ambitious? Not necessarily. Although they receive many speaker proposals, Deepak Mehta – co-organizer of TEDxAntwerp – shared with us that researchers with a compelling story are especially welcome. Reach out to the organizers directly with a well-construed idea. At TEDx you will want to present a story that captivates and inspires, rather than explain your research area. Although one does not necessarily exclude the other.
Create your own lecture
Want to really buckle down? Why not create your own lecture and take it to the streets. Contact libraries and associations and let them know you are available. Gain confidence speaking in front of a general audience and polish your story while you're at it. Of course, this works best with a topic that people can relate to. Your lecture on thermally activated delayed fluorescence will likely have less appeal than one on drought and water scarcity.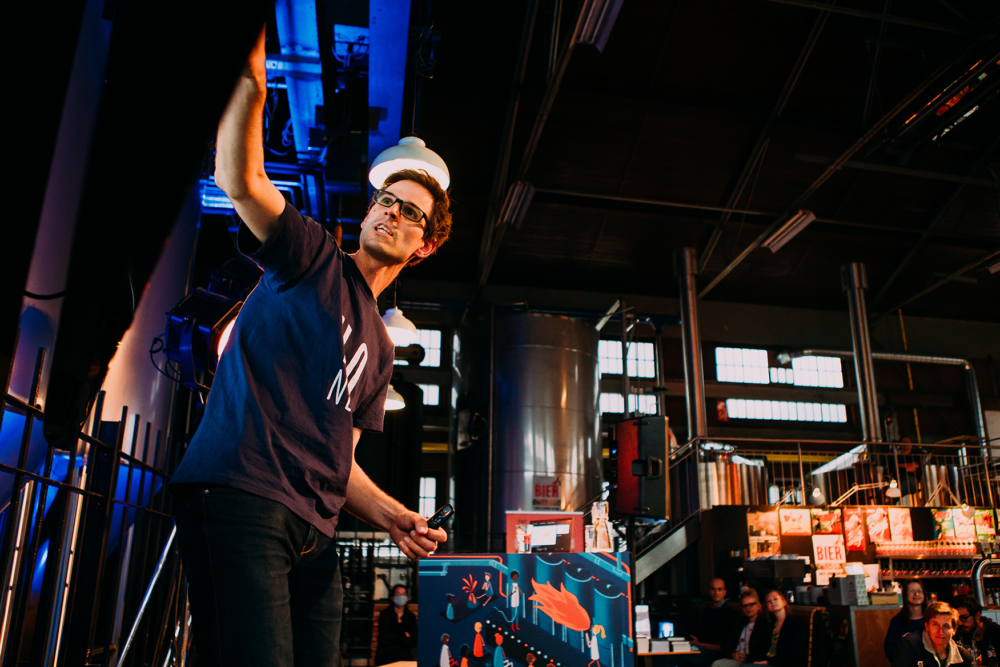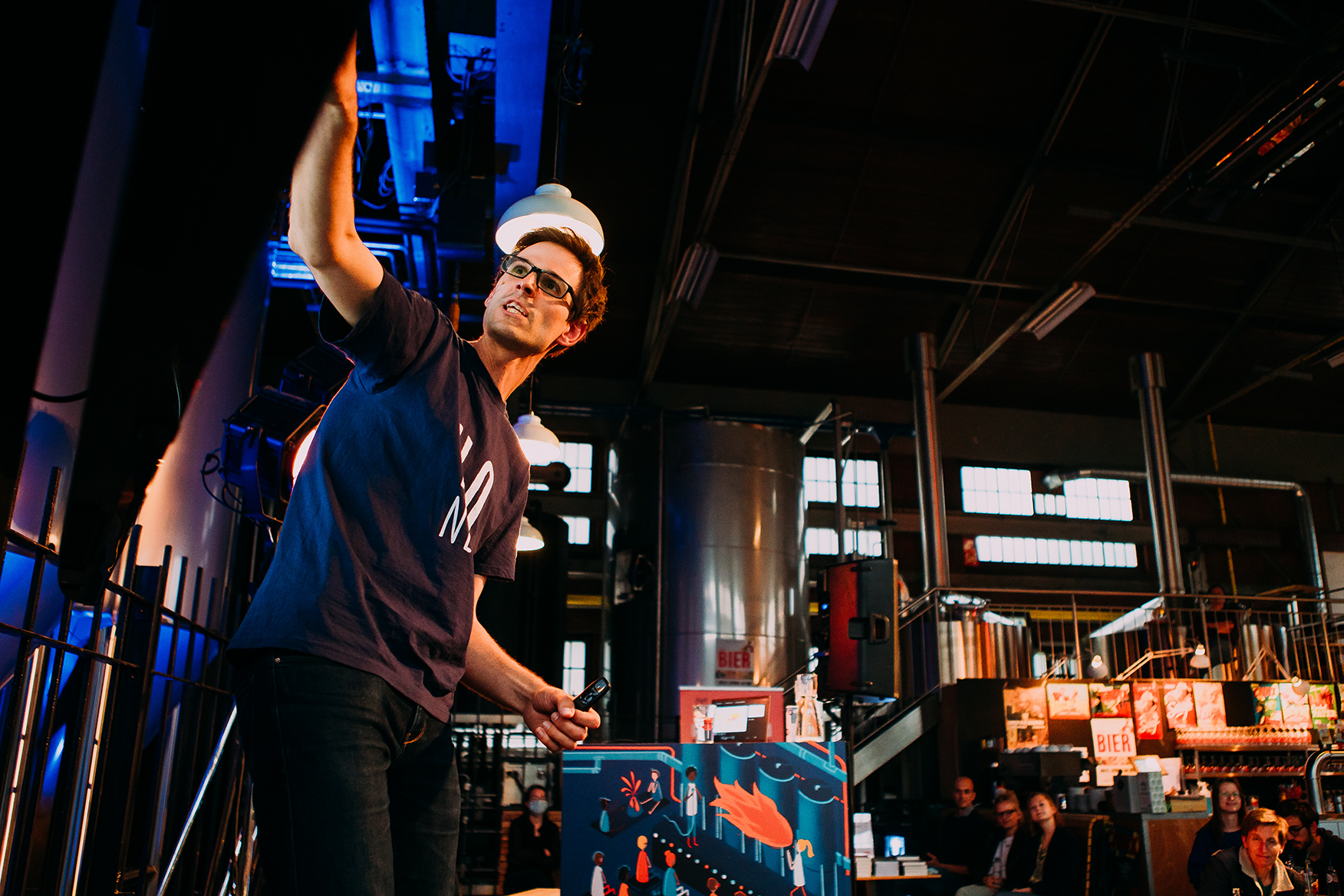 Mix things up
Bright Club
Scientists are transformed into stand-up comedians during a training session. Unleash your inner entertainer and combine science with comedy. It may be a challenge, but participants have shared with me what a great time they had and that taking part gave them a real adrenaline rush. Currently only in Brussels, open to everyone. More info or contact Science Outreach Office from the VUB and the Erasmushogeschool Brussel via contact@wtnschp.be.
Fuckup Nights
Why should we only discuss success, when research is in fact a story of trial and error and getting back up again? At the Fuckup Nights researchers are welcomed to share their failures. Liberating and great fun to attend or participate in. The organizers are currenlty actively seeking speakers. I (Toon) once spoke there about the time I was working in the lab when I accidentally… well you should have been there. More info or contact kuleuven@fuckupnights.co.
Project Curious
Merges research and performing arts and pairs scientists with artists to concoct something together. International project supported in Belgium by Arenberg. More info.
Dance Your Ph.D. contest
Uniek in zijn soort: je legt je doctoraat uit door te dansen! Dance Your Ph.D. bestaat sinds 2008 en wordt georganiseerd door de American Association for the Advancement of Science (AAAS) en Science Magazine. Schud de benen maar al los! Meer info.
Unique in its kind: explain your PhD by dancing! Dance Your Ph.D. was founded in 2008 and is organized by the American Association for the Advancement of Science (AAAS) and Science Magazine. Let's get moving! More info.
In conclusion
Every academic institution organizes events and activities where you can take the stage. The science communication cells (or press services) of universities and colleges are constantly looking for good speakers for this purpose. But if they don't know you, they can't ask you. Reach out to them and let them know that you would like to participate in the events they organize!
Two additional tips:
Want to get invited to more events? Make sure you are in the spotlight and put yourself out there. A video of yourself is golden. As organizers of Sound of Science, many people come to us suggesting good speakers. The first thing we do is google that person to try to find a video where we can see (or hear) them speak.
Did you know that The Floor is Yours can also organize an event for you? We are the hosts of the Science Battle and Sound of Science, but we would love to get started on your research event or research day. Let us make it a party that everyone will love to attend. More info on what we can do for your event. Of course we can also look for the wow factor in your research and learn you to think like a journalist. More info about our workshop 'Your research in the media'.
Are you a Dutch-speaking researcher and do you want more? In this blog post you can find a more comprehensive list including the Dutch options.