How to win a scientific poster contest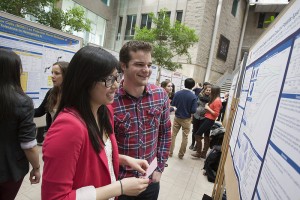 Dorien Goubert, researcher with the University Ghent, plans to attend a symposium about pain in Vienna. She wants to know how she can win the scientific poster contest that is part of the event. Not necessarily for the prize itself, but for the implied recognition and appreciation of her research topic.
How to make a world-class poster is something you've maybe already learned during our Posterworkshop. The tips we gave you there still apply. But how do you make the very best poster? The one that takes the cake at a symposium?
Make it memorable
Merely attracting your audience's attention is not sufficient. Attracting attention is what makes people pause and look at your poster. But if the judges do their jobs, they should stop at each and every poster anyway.
Drawing the attention is therefore less important. What really matters is how much of your message lingers. Show your audience something they will remember after a long day.
This is not all that easy. The judges make their decision on who wins based on a few notes they quickly jot down as they walk by each of the posters. If you are number 13, with 42 posters to go, standing out from the crowd is a tall order. Compare it to the Eurovison Song Contest: act #7 will generally seem to be stand out less in people's memories than the earlier acts.
In short: make sure your message sticks with the judges. For a period of one hundred posters.
How to get stuck in the judges' heads
You won't be able to accomplish this merely with data and solid research results. Of course, a coherent story and poignant results are important, but at any given symposium, there is bound to be someone with a better, more interesting research story.
Besides, the judges typically do not have the time to review and discuss each presentation in great detail. You will mostly have to make it happen with your title, your illustrations, and maybe some 3D.
These are some examples of winning posters
Winners of the annual poster contest at Nottingham University: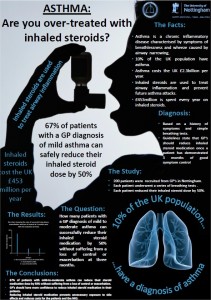 Things that stand out:
1) Graphics attract the attention and make your poster truly memorable. Graphics typically are the most important aspect of your presentation if you want your message to stick with people. It provides a hook for judges to refer to your poster. For example: "I really liked the poster with the picture of the knee abrasion."
Allow plenty of space for your graphics. The best illustrations are not stuck in a rectangular little frame, but rather take up the entire space or more (meaning that they extend all the way to the end of the poster board) In a previous post we showed you where to find great illustrations or photos.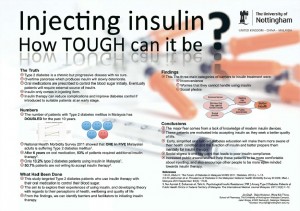 Don't be reluctant to pay for the perfect image, and use original photos or illustrations that support your story really well.
Illustrations can be very powerful when they are well-made and relevant to your story. Since few people use them, your presentation will really stand out. Bonus points to be have for those who manage to present their data in a clear and attractive manner (did someone say "infographic"…?)
2) The title of the winning posters is often in the form of a personal address. ("Asthma: are YOU overtreated with inhaled steroids?"), or is humorous ("A bone to pick with tissue engineering") Your title needs to linger, which you won't accomplish by putting it simply at the top of your poster board.
No one will remember it. Choose a short title that will stick. Alliterations work well.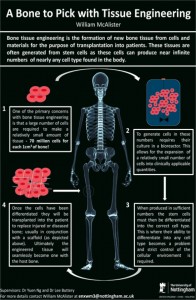 3) Use 3D. Offer something extra with your poster. You will stand out from the crowd with this approach, as most people don't bother doing this.
A great example: this 3D poster about 3D technology, which people could actually look at through 3D-glasses.
I spy with my computers eyeYou could also consider an experimental approach for your poster or include live polling via a laptop if this applies to your research. This infuses your poster presentation with real-live feedback gathered at the event.

There is a myriad of options, and most times it comes down to practice, drafting and reworking, or finding that one photo that is absolutely perfect. But it is certainly possible to make your poster the winning one at the symposium.

PS: Dorien asked us how she could win the poster contest. Please let us know if you too have questions for us about communicating your research findings. Who knows, maybe your question will be featured in a future blog post. Send your questions to info@the floorisyours.be

Credits: