Slide design
Do jam-packed, illegible slides make you shudder? During our workshop you will discover how to put just enough relevant information on your slides and we will also share with you some graphic design tips.
We cover these topics
What you need to know about slides
Added value Why should you use slides?
Alternatives How do you handle no (or fewer) slides?
Step-by-step plan How do you get started?
Text
Number of words What is the ideal number?
Essence How do you select the text?
Structure Where do you put it on the slide?
Visual
Photos or icons Where can you find them?
Data and graphs How do you best present them?
Uniformity How do you ensure unity? Using templates?
Presenting with slides
Rhythm The slides follow you, not the other way around, right?
On stage How do you best present your slides?
Online What do you pay attention to when you virtually share slides?
Target audience

Researchers, scientists, students and professionals, at universities, colleges, governments, companies and associations.

Format

Online, on location or blended learning. Additional sessions are possible.

Language

Software

For the online workshop we use Zoom or WebinarGeek, but we can also use other tools if requested.

Instructor

Hans Van de Water or Toon Verlinden, science communication experts and founders of The Floor is Yours.

Approach

Our workshops are always:

Customized We adapt the content to the target group.

Interactive We involve the participants and let them immediately try out our tips.

Specific No endless chatter, but practical tips and recognizable examples.
Create your training
Workshop

During the workshop, participants will receive our best presentation tips, with customized examples and practical exercises. On location or online.

Try-out session (optional)

Knowing how to do it is one thing, but applying this to your own topic and getting immediate feedback will ensure the very best learning experience. We do this in a small group during the try-out session.

Book (optional)

Our book 'The floor is yours: Because life is too short for bad presentations' contains useful presentation tips and useful tools. It is an ideal addition to this workshop.
Sample combinations
An online workshop of 2 hours with 12 participants, followed by two try-out sessions in the afternoon with 6 participants in each session.
A half day workshop, in combination with the book 'The floor is yours'.
The workshop
We offer the workshop Slidedesign both on location as well as online.
Workshop on location

3h

Max. 15 participants (more per approved request)

€1.090,00

Everything you need to know about slide design, with examples, time for questions and a practical exercise.

Online workshop

2h

Unlimited participants

€ 990,00

The basics. With recognizable examples and practical tips, adapted to an online audience.
All prices excluding VAT and excluding transport (if applicable)
Try-out session
With a try-out session, the participants will have the opportunity to process our tips from the workshop and really apply them to their own research or project. During the session they will review some of their slides and receive feedback from the instructor and fellow participants.
The combination of the workshop and a try-out session generally produces the best results. We also offer video feedback.
Try-out session (online or on location)

1.5h

Max. 6 participants

€ 400,00 / session

The participants send us in advance some reviewed slides and receive feedback from fellow participants and the instructor during the session.

Video feedback (at your own pace)

/

Individually

€ 150,00 / person

Each participant sends us a number of slides.

We record our feedback and offer proposals to improve the slides.
All prices excluding VAT and excluding transport (if applicable)
In combination with our book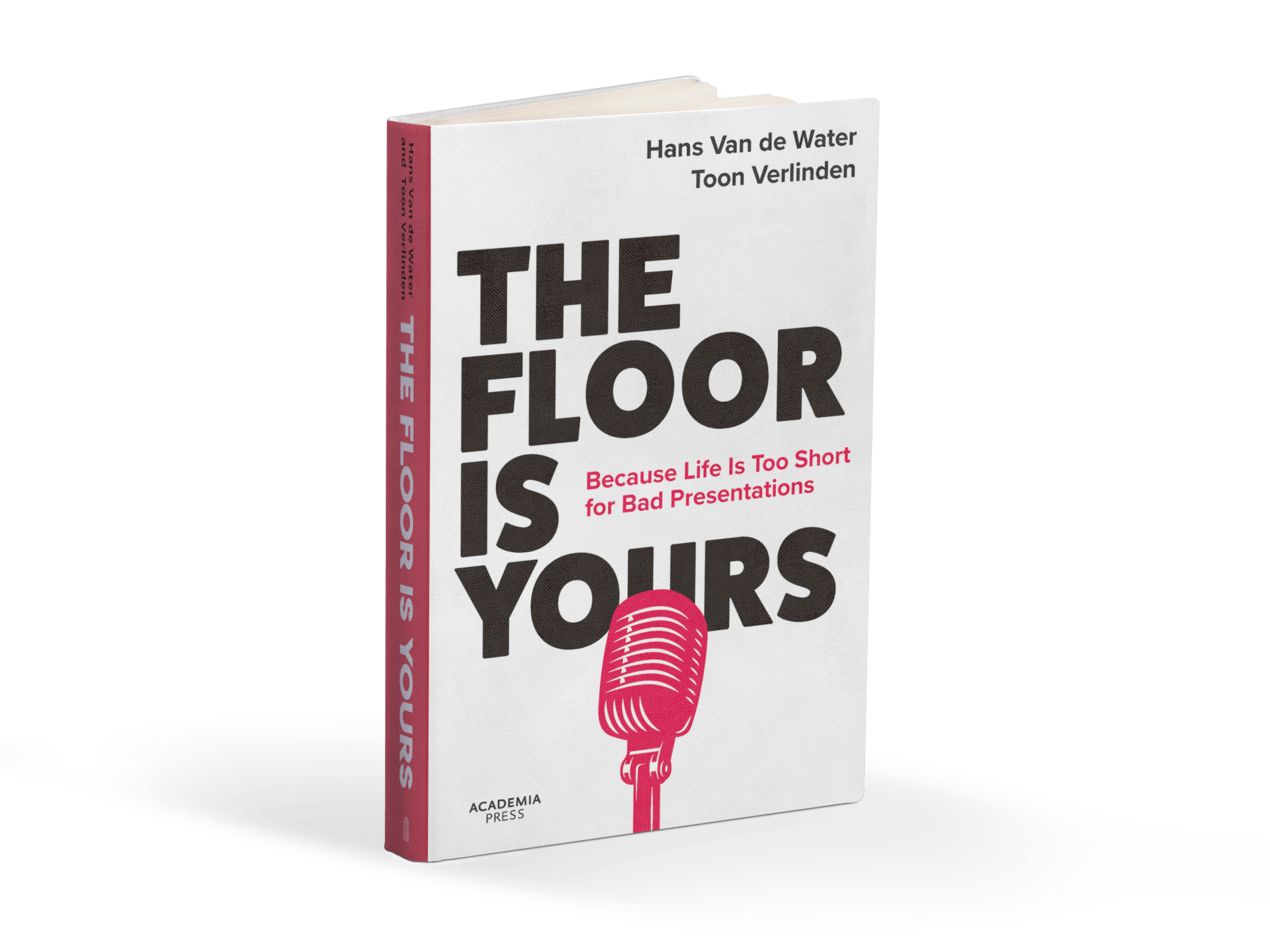 The book 'The floor is yours: Because life is too short short for bad presentations' is the ideal addition to our workshops. It not only deals with the topics from the workshop, but also goes into more detail, provides additional examples and offers useful tools that the reader can implement right away. A 'must read' according to Jan-Willem Toering, director of the Royal Netherlands Chemical Society (KNCV).
When you book a workshop, the book costs only € 20 per participant, instead of € 25.99 in stores. Also available in Dutch.
Wat vinden de deelnemers?
Over the past couple of years, The Floor is Yours has been hosting a guest workshop during our Summer School on English for Academic Purposes. The participants are always very enthusiastic after the workshop, thanks to the many practical tips and the useful assignment with feedback. They can immediately put the tips into practice throughout the rest of the course, and long afterwards.

Zoë Teuwen

Coordinator Academic English (Linguapolis, University of Antwerp)
Also discover our other workshops
Pitch your research

Need to explain your research or project to a jury or a large audience in one to three minutes? We will help you to find the essence and to convey it convincingly. Less is more!

Your research in the media

Does no one seem interested in your research? During this practical workshop you will learn to think like a journalist. We will look for the wow factor that makes your research captivating.

Presentation performance

How do you give a confident impression on stage and in front of the webcam with stress raging through your body? Come discover our practical tips on body language, voice projection, and interaction.