How to present online?
How can you hold your audience's attention when presenting in front of a webcam? During this training you will learn what to pay attention to: from interaction, empathy, to eye contact.
We cover these topics
Attention and interaction
How do you hold your audience's attention?
How do you make things interactive?
What do you say during the first minute and how should you end?
Technology and slides
Which software should you use?
Can you use the same slides for online presentations?
How do you set up your own online studio?
Performance in front of the camera
How do you make a confident impression in front of the camera?
What is the importance of your voice?
How do you make eye contact with your audience?
Target audience

Researchers, scientists, students and professionals, at universities, colleges, governments, companies and associations.

Language

Software

Instructor

Hans Van de Water, science communication expert and founder of The Floor is Yours. He has trained thousands of researchers and professionals in clear communication.

Approach

Our workshops are always:

Customized We adapt the content to the target group.

Interactive We involve the participants and let them immediately try out our tips.

Specific No endless chatter, but practical tips and recognizable examples.
Create your training
Workshop

During the online workshop, participants will receive our best presentation tips, with customized examples and practical exercises. You can choose between a short training course of up to 2 hours or an extended one of 3 hours.

Try-out session (optional)

Knowing how to do it is one thing, but applying this to your own topic and getting immediate feedback will ensure the very best learning experience. We do this in a small group of 5 participants during the try-out session (1,5-2 hours).

Book (optional)

Our book 'The floor is yours: Because life is too short for bad presentations' contains useful presentation tips and useful tools. It is an ideal addition to this workshop.
Sample combinations
A half-day workshop with 12 participants, with one week later, two try-out sessions in a smaller group.
A workshop from 9 am to 11 am, followed by two online try-out sessions in the afternoon .
Try-out session
We provide a try-out session the day itself or a few days after the workshop. In this way the participants will have the opportunity to process our tips from the workshop and really apply them to their own research or project. During the session they will give a brief presentation and receive feedback from the instructor and fellow participants.
The combination of the workshop and a try-out session generally produces the best results.
In combination with our book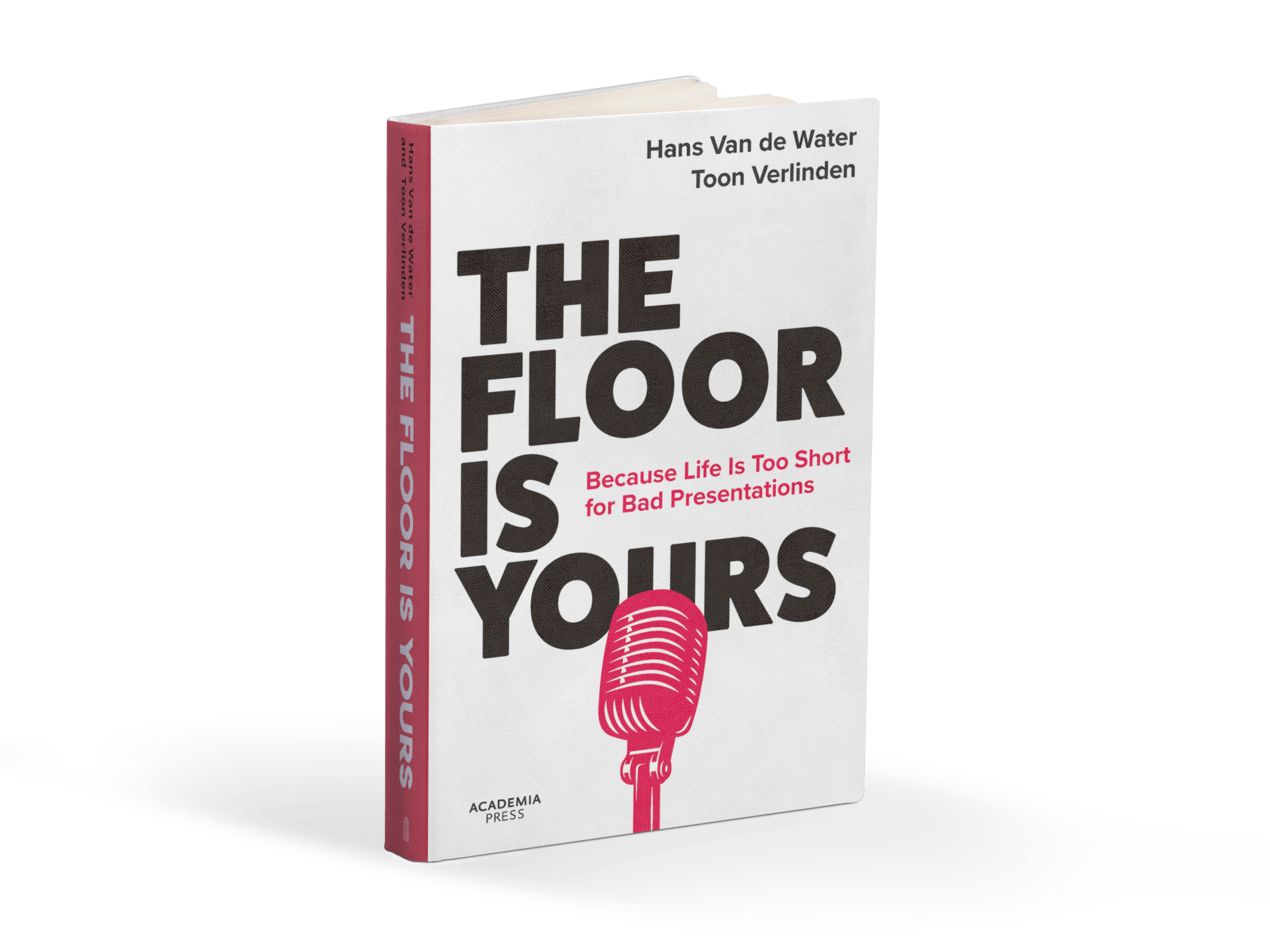 The book 'The floor is yours: Because life is too short short for bad presentations' is the ideal addition to our workshops.
What do the participants think?
Thank you for the many and, above all, instantly useful tips and guidelines. Applying those tips builds my confidence, which in turn helps me overcome the lack of visual feedback.

Simon Vanlangendonck

Researcher KU Leuven

Thank you for the great presentation. It was exactly what I needed and the time flew by. I liked that you made everything seem very straight forward and were enthusiastic about your work.

I've had to move most teaching and presenting online and personally wasn't enjoying that aspect at all. You've offered a great way to deal with these challenges!

Maggie Urquhart

Leiden University

Thanks for the workshop, everyone was very enthusiastic about it.

Miranda Tap

Wageningen University & Research
Some organizations that have already booked this workshop
Read more about presenting online in our blog
Scientists are among the most frequent of travelers, globe-trotting to various international conferences, summer schools, meetings, … We are all aware of the negative impact …

'Online presenteren. Het voelt alsof je tegen een zwart gat spreekt.' Peter, professor aan de UAntwerpen, vindt het erg vervelend dat hij zijn studenten niet kan …

Ellen starts her online presentation with a question: 'How many women were diagnosed with breast cancer in Belgium in 2018?' We see 5 options, from …
Also discover our other workshops
Pitch your research

Need to explain your research or project to a jury or a large audience in one to three minutes? We will help you to find the essence and to convey it convincingly. Less is more!

Your research in the media

Does no one seem interested in your research? During this practical workshop you will learn to think like a journalist. We will look for the wow factor that makes your research captivating.

Presentation performance

How do you give a confident impression on stage and in front of the webcam with stress raging through your body? Come discover our practical tips on body language, voice projection, and interaction.