SlideDog: useful tool to avoid awkward presentation mistakes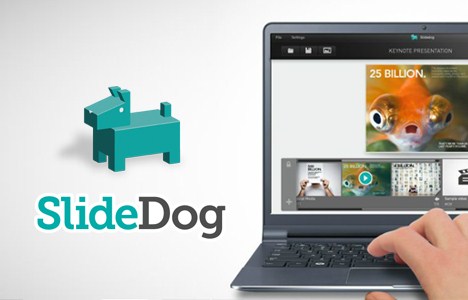 Out of the blue – projected on that big screen up front – is a picture of the organizer, wearing only swimming trunks, holding a beer in his hand, clearly in vacation setting.
Pretty awkward, right? (Although nothing wrong with relaxing vacation in swimming trunks.)
A classic error. Proceeding from one presentation to the next, the organizer has mistakenly clicked on his personal desktop.
With the free software SlideDog this would have never occurred.
Go ahead, smile and claim this will never happen to you. But just imagine these two situations:
The dreaded mix-it-up-at-the-last-minute-speakers
First situation: you are the organizer of an event. Determined not to make the same mistake as your predecessor-in-swim trunks, you have decided to place all presentations back-to-back in one big slide show. Thus leaving behind any fumbling around between the presentations given by each of the speakers.
You collect all the presentations beforehand, nicely setting everything up by the time of the event. You do a triple run-through. Everything goes smoothly. Job well done.
Only… on the day of the event one of the speakers approaches you with an adapted version he would like to use for his talk. And oh yes, speaker 3 and 4 will need to be switched around as speaker 4 has to leave early. Your perfectly prepared PowerPoint quickly turns into a big mess. You are completely bewildered and begin to panic.
Video and Murphy's Law
Second situation: you are one of the speakers at an important event, where you'd like to present the video of an experiment. It took you many hours to create this video, seeing this was the very first time you recorded your experiment yourself (congratulations!) and also edited it.
On the day of your presentation your video does not work in PowerPoint. How's that possible, you did test it at home.
Videos in PowerPoint are bound to give you trouble: the clips regularly do not play when you would like them to, there is no clear way of pausing them – let alone start them – and if they do start, they will more often than not produce no sound. Dreadful.
Should we just steer clear of videos then? I wouldn't go that far, but on the topic of PowerPoint: apart from the use of standard slides, practically everything in PowerPoint will give you trouble. Ever tried opening a link to your research poster PDF-file in PowerPoint?
ENTER the free SlideDog
SlideDog is a free software that can be downloaded from the internet. Once installed on your laptop, simply drag on over anything you want to access during the course of the event: all 10 of your speakers' presentations, their 5 linked videos and why not, also the 2 PDFs and 1 large graph they wanted to present.
Once you have collected all of those, click 'Start Show' and there you go: you can now easily navigate between the different files, without a single PowerPoint worry. Want to start a video halfway through the presentation? No problem. SlideDog will employ your computer's native programs (Windows Media Player or VLC Media Player), instead of PowerPoint to play you your video.
No more videos in low-quality settings with PowerPoint only working properly with .wma-files. And you now have clear buttons to pause and stop your video. As soon as your clip has finished playing, simply return to your presentation.
Reached the end of your presentation? Quickly click on the next presentation, and voilà!
Other useful characteristics:
The software works offline.
You can open Prezi presentations in SlideDog
You can save pre-made shows and start them at a chosen time
On the speaker screen there is a timer and a clock, telling you what time it is and how long you have been speaking.
As with any free software, there are several extra features available when you upgrade to the paying version. There you can select for a custom background to be displayed when no file has been activated. And you have the added option of simultaneously working with two different screens. Nonetheless, the free version is a pleasure to work with.
In other words, for your next event or intricate presentation: go with SlideDog. Really. No need to worry about leaving that vacation photo on your desktop. SlideDog will save you from any awkward incidents.
PS: We are merely passing on to you our positive experiences with this software. Rest assured that we are not receiving any financial compensation for our recommendations. Really!